Just For Fun: Did Anyone Catch This Bizarre Blooper On How I Met Your Mother This Week?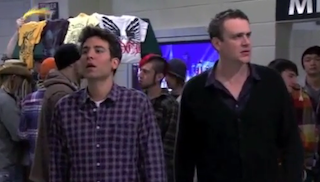 We here at Mediaite watch a lot of cable news. We also sometimes watch television that's actually entertaining. Last night, this writer was watching this week's How I Met Your Mother, a show that's not as good as it once was but that I still watch because I'm totally sure they're going to reveal the mom like any day now. I just know it!
Anyway, during that episode, I noticed a bizarre blooper that I became hypnotized by, rewatching it with my roommates about 50 times. This morning I showed it to my coworkers and we all watched it 50 times more. It's brought us all a little joy on this cloudy day and maybe it will bring the same to you.*
The moment came as the characters Ted and Marshall explore an concert arena looking for some nachos. If you look closely, you can see that one of the extras got some poor direction.
I've been a fan of this show for years, but I'm really not sure how no one caught this.
*Yeah, we know this isn't really typical content for this site but, after Mediaite's Colby Hall realized I spent eight whole minutes of company time editing this clip together, he decreed that "We might as well get some God damned traffic out of the damn thing!" before lighting his eighth cigar of the day and getting back to his editorial on how Spider-Man is really a menace.
So, please, enjoy an awesome blooper from CBS' How I Met Your Mother:
Have a tip we should know? tips@mediaite.com