Just Too 'Horrific'? Megyn Kelly Panel Slams 'Media Blackout' Of Abortion Doctor Kermit Gosnell's Trial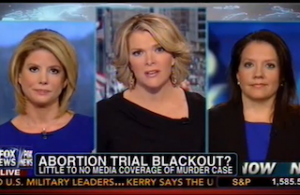 The alleged media "blackout" of the Dr. Kermit Gosnell trial appears to be coming to an end. Megyn Kelly and her Fox News panel took on the story of the abortion doctor who is on trial for killing seven "viable fetuses" and why the mainstream media has been ignoring it up until now.
Letting viewers know that she was going to "spare you the awful details," Kelly welcomed Fox contributor Kirsten Powers and religious blogger Mollie Hemingway to offer their takes on why this has not been as big of a story as some people think it should be. Kelly noted that especially because she is currently six months pregnant, she did not want to discuss the details of the story. But, she admitted, "we in the media don't get to decide what the news is," adding, "I didn't want to discuss 20 dead 6-year-olds at Newtown, Connecticut either, but that was the news and we had no choice but to cover it."
Powers wrote about the supposed lack of coverage in a USA Today column and Hemingway has been covering the media's reaction to the story extensively on her "Get Religion" blog. Both women, who represent opposing sides of the abortion debate thought the story transcends politics in many ways and should be covered as such.
"I think that there is just absolutely no excuse to not cover this," Powers argued. "We know the media loves trials — if it bleeds, it leads." She called out CNN specifically for dedicating hours of TV time to the stranded Carnival Cruise, while ignoring the Gosnell story. Though, as Mediaite's Noah Rothman pointed out, CNN's Jake Tapper was one of the first to cover the story.
Meanwhile, in her research, Hemingway had one reporter tell her she was not covering the Gosnell trial because she considered it a "local crime" story. "There are local crime stories, like what happened in Connecticut," Hemingway said, somewhat facetiously, referring to the Newtown shooting, "has that been handled as a local story of no interest, with no policy implications for the nation? Hardly. Every media outlet is pushing for gun control and asking every politician what they're going to do about this."
One obvious question was why Fox News has not dedicated more air time to this story. Kelly addressed that issue, saying, "we have not been covering this story in great detail because it's so horrific." She added, "It's just too dark to talk about the murder of all of these babies and the testimony has been so gruesome. It's a hard subject to put on the front page or in your program every day." But, she concluded, "there's a responsibility as a member of the media… to cover even the hard stories and the viewers, to some extent, they have a responsibility to consume this."
Watch video below, via Fox News:
—
>> Follow Matt Wilstein (@TheMattWilstein) on Twitter
Have a tip we should know? [email protected]