Justin Bieber Proves He Doesn't Lip-Synch By Flubbing Lyrics To Christmas Song On Today Show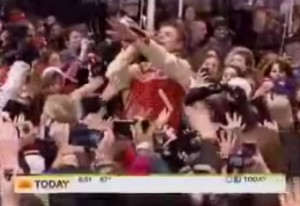 Justin Bieber is the first male singer to ever debut a Christmas album at No. 1 on the Billboard charts. So it stood to reason that, during a marathon appearance on Wednesday's Today show, he'd be crooning some hits from Under the Mistletoe. But during Bieber's final song, a Jackson 5-inspired twist on "Santa Claus is Coming To Town," he seemed to forget some lines to the holiday classic.
Bieber loved the "He's making a list" line, inserting it at least twice into the song where it didn't belong. About halfway through, possibly aware that he wasn't going to figure out all the lines on live TV, it looked like he just gave up on singing the first line of each stanza, waited to hear what the backup singers came up with for his cue, then took it from there.
To Bieber's credit, the fact that he flubbed the lines actually speaks to his quality as a performer. Instead of taking the easy way out by just playing a pre-recorded track and doing flashy dance moves to it, the Biebs sang his songs live, strolling up and down the stage and slapping hands with fans, who wrapped around Fifth Avenue — way out of any sight lines — just hoping to catch a bit of his angelic voice from hundreds of yards away. So somehow, some way, flubbing the lines to a song that most people know actually made Justin Bieber… more endearing.
It warms the heart.
Enjoy the dose of mixed-up holiday cheer below, courtesy of NBC:
Have a tip we should know? tips@mediaite.com