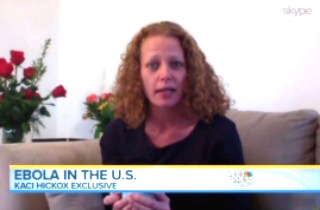 Kaci Hickox, the nurse who was quarantined despite testing negative for the Ebola virus after returning home from Sierra Leone, said this morning on Meet the Press that she will stay away from public places in her Maine town, and apologized to residents for the media firestorm that has erupted.
Upon landing in Newark, New Jersey, she was forced into quarantine under the new regulations put into place by New Jersey Gov. Chris Christie, and has since defied those orders and returned to her hometown of Fort Kent, Maine.
Even though a judge ruled that Maine Gov. Paul LePage can not impose a quarantine on her, she told Chuck Todd this morning that she will not go near any public places in town. Residents have witnessed a media firestorm in their town, and Hickox apologized for that while standing by her criticisms of Gov. Christie.
"I understand that the community has been through a lot in the past week, and I do apologize to them for that," she said. "I will not go into town into crowded public places."
Hickox also said the focus should be on science rather than politics, and that Christie's actions were based on "an abundance of politics."
Hickox also told Todd that she hadn't seen her cameo on Saturday Night Live last night.
Watch the video below, via NBC:

[Image via screengrab]
— —
>>Follow Andrew Desiderio (@forza_desiderio) on Twitter
[Note: Mediaite intern Andrew Desiderio is a student at The George Washington University.]
Have a tip we should know? tips@mediaite.com