Kaine Contradicts Clinton Campaign: I Didn't Flip-Flop on Taxpayer-Funded Abortion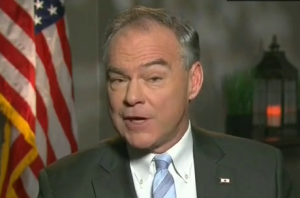 After the Hillary Clinton campaign claimed earlier in the week that their new vice presidential candidate Tim Kaine had changed his position on taxpayer funding for abortion, Kaine contradicted them Friday and stated that he hadn't.
As a Democratic Virginia Senator, Kaine supported the Hyde Amendment, which forbids taxpayer funds being used to fund abortions except in cases of rape or to save the life of the mother. Clinton however opposes the Hyde Amendment and has promised to repeal it. After Kaine was selected as her running mate, Clinton campaign manager Robby Mook said on CNN that he had changed his position.
"That was over 10 years ago…" Mook said on State of the Union Sunday. "He has said that he will stand with Secretary Clinton to defend a woman's right to choose, to repeal the Hyde Amendment. So, you know, voters can be 100 percent confident that Tim Kaine is going to fight to protect a woman's right to choose."
But when asked about the apparent flip-flop Friday, Kaine denied that he had ever changed his position at all. "The Hyde Amendment that bans taxpayer funding for abortion. For or against it?" asked CNN's Alisyn Camerota.
"I have been for the Hyde Amendment. I haven't changed my position on that," he responded.
"You're still for it– you're still for the banning?" she clarified.
"I have not changed my position on that," Kaine confirmed.
Watch above, via CNN.
[Image via screengrab]
——
>>Follow Alex Griswold (@HashtagGriswold) on Twitter
Have a tip we should know? tips@mediaite.com