WATCH! Kanye West and Jimmy Kimmel Face Off for the First Time Since Twitter Feud…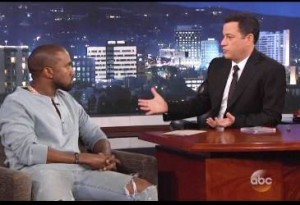 A few weeks after Kanye West fired off a series of angry tweets at late night host Jimmy Kimmel, the rap artist appeared on Jimmy Kimmel Live for an interview Wednesday night that got a bit awkward, but the two ultimately reconciled and there were no bad feelings by the end of it.
West denied adamantly this was a publicity stunt, and admitted to Kimmel, "We kind of just took it back to high school for a little bit." Kimmel explained he wasn't trying to take West down a peg, though he did add, "A lot of times, I think you bring it on yourself."
Despite this, Kimmel said that he's known West to be a very nice person and has defended him in the past. West called himself a "creative genius" who just "say[s] things the wrong way a lot of times," adding, "I'm more of a messenger than a rapper."
He told Kimmel, "I'm totally weird and I'm totally honest and totally inappropriate sometimes," and ultimately concluded, "You're gonna love me or you're gonna hate me but I'm gonna be me."
Part two of the interview opened with Josh Groban playing piano and singing some of West's "best" tweets. After that musical display, Kimmel asked West if he was tweeting on the toilet during their feud. West joked, "That's when I think of the best shit."
Kimmel presented West with some tiny leather jogging pants for his baby. They talked about fashion, and West said, "Fashion isn't always practical, it's more about emotion, it's more about swag."
They elaborated on their earlier discussion about celebrity, and West launched into a fiery tirade against classism, touching on everything from people dismissing his wife Kim Kardashian as just a reality show star to Paula Deen to why his idols are people like Steve Jobs and Jesus.
Watch the video below, via ABC:
Part 1:
Part 2:
Part 3:
Part 4:
Part 5:
Part 6:
— —
[photo via screengrab]
— —
Follow Josh Feldman on Twitter: @feldmaniac
Have a tip we should know? tips@mediaite.com
Josh Feldman - Senior Editor