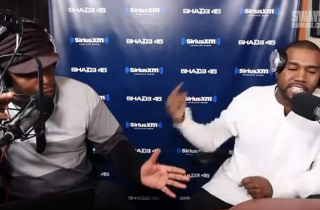 During a SiriusXM interview Tuesday morning, rapper Kanye West flipped out on interviewer Sway after being challenged on his assertions about how difficult it is for a black artist to get corporate backers willing to take a risk on his creative ideas.
West has made headlines in recent weeks for his in-concert rants about various fashion designers and companies who've shunned him or ignored his attempts to break into the business. According to West, major corporations like Disney, Nike, Google, etc., don't "step up" and help finance some of his projects involving fashion, art, and technology.
Appearing on Sway's satellite radio show, West likened himself to Shakespeare, asking if companies will "step up and be the Medici family" and patronize his ideas while he's still at the top of his game.
When Sway challenged West with a question — "Why don't you empower yourself and do it yourself?" — the conversation went off the rails.
West began yelling: "You ain't got the answers, man! You ain't got the answers! I've been doing this more than you! You ain't got the answers!" The rapper insisted that his interviewer did not have sufficient experience to question West's assertions about business, at one point jabbing at how "no one knows the name" of Sway's failed fashion line.
After a lot of crosstalk between the two, Sway finally calmed West down, who explained his frustrations as feeling "marginalized" by companies like Nike, despite his massive critical and commercial success as an artist as well as the attention paid to his dabblings in fashion.
The pair ended the interview on a brighter note, joking about the heated confrontation and reaffirming their friendship.
Watch below, via SiriusXM:
— —
>> Follow Andrew Kirell (@AndrewKirell) on Twitter
Have a tip we should know? tips@mediaite.com