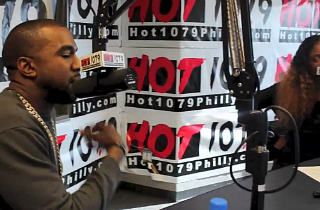 In an interview with Hot 107.9 radio Monday morning, Kanye West said he's done trading words with President Obama, lamenting that the president "used" him as a "punching bag" when he called the rapper a "jackass" back in 2009.
Obama famously called West the crude synonym for "fool" during a 2009 interview about the rapper's antics at that year's MTV Video Music Awards. While discussing the incident Monday morning, West told 107.9 hosts Shamara and Laiya St. Clair that he felt "used" by the president, despite their pre-2008 history of having a good relationship.
"He used to come and visit me and my mama and tell me that he's about to run for president," West recalled. "I just think that we're pop icons, and the president likes to use that type of thing just to be down and stuff. People was fine with me being everyone's punching bag for about five years — 'Man, this is the person we love to hate, so if you want to distract people from everything that's going on…, just say you hate Kanye and there's going be 30 other people who say they hate Kanye.'"
"That was kind of my position in culture so he also used that too — 'Oh, he's a jackass' — because that's how the world felt," the hip-hop artist said.
Ultimately, West concluded, "I don't care if somebody's the president or not. I care about thoughts and how you helping people and what you bring to the world."
Despite the radio hosts' repeated pressing on whether Kanye and the president will ever "break bread," West said: "I'm not gonna mention him no more, I'm past that. That's out of my thoughts; that's lowering my priority of thinking at this point."
Aside from the "jackass" comment, the president recently drew the ire of West's mother-in-law after he slammed West and his fiancée Kim Kardashian as being part of a culture too fixated on wealth and celebrity lifestyle.
Watch below (starting ~11:13 in first video, continuing into second embed), via Hot 107.9 Philly:
[h/t Politico]
[image via screengrab]
— —
>> Follow Andrew Kirell (@AndrewKirell) on Twitter
Have a tip we should know? [email protected]