'Kapooyow! Kapooyow!': Woman Gives Incredibly Awesome Description Of Hailstorm To TV Station
'Kapooyow! Kapooyow!': Woman Gives Awesome Description Of Hailstorm To TV Station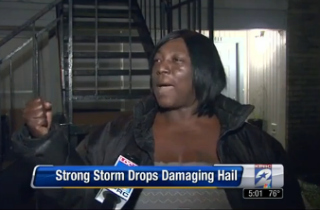 On Tuesday evening, much of the south was hit hard with massive hailstorms, causing widespread damage and millions in insurance damage. But every cloud has its silver lining, and in this case, that silver lining can be summarized as follows: "Kapooyow!"
In an otherwise mundane segment on how many in Houston are recovering from the storm damage, the city's NBC affiliate decided to sprinkle in some man-on-the-street (hereby known as "MOS") interviews to really help you feel that local pain. And boy, as it turns out, they weren't just sprinkling in some MOS… they were sprinkling some magic MOS dust.
"Man! Those jokers was big," Brookshire resident Michelle Clark told KPRC following a bunch of soundbites from someone much more boring. "Size of a quarter, doggone!" she elaborated.
Channeling great onomatopoeia skills, Clark then told the reporter that the hail hitting her roof sounded like: "Kapooyow! Kapooyow!"
Clark explained that when she looked out her door, she saw the storm, and "took off and ran to the rest room to call my momma to see if she all right."
As a former television producer who has experienced many hours on the street trying to find interesting people to say interesting things about various news stories, I'd like to salute Clark and present her as a model for you all to copy. Next time you see a lowly cameraman, sound tech, and a guy/girl holding a microphone, please do your best to be simply awesome. Thank you.
Watch below, via KPRC:
[h/t
TVSpy
]
— —
>> Follow Andrew Kirell (@AndrewKirell) on Twitter
Have a tip we should know? tips@mediaite.com