Karl Rove Defends Tea Party Support On O'Reilly: I Gave Millions To Tea Party Candidates In 2010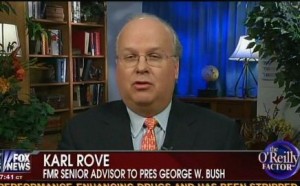 Karl Rove's interview on Bill O'Reilly's show tonight was cut due to the Chris Dorner press conference, but in the part of the interview that aired, Rove defended his new political organization dedicated to supporting more moderate candidates over more radical Tea Party challengers, as well as a commercial released by his group American Crossroads launching a devastating attack against… actress Ashley Judd.
RELATED: Donald Trump: 'Karl Rove Is A Total Loser,' So Why Are People Still Giving Him Money?
After the breaking news, Fox cut back in the middle of Rove's defense of his previous Tea Party support, saying that he gave money early to Marco Rubio and Pat Toomey, two of the most conservative Senate candidates in 2010. He also said that American Crossroads has given millions and millions of dollars to Tea Party candidates across the country.
However, Rove's group also gave money to support Richard Mourdock and Todd Akin, and after both men made their respective comments about rape, Rove said donors told him they need to do a better job at getting "better conservative candidates." O'Reilly explained to Rove that there is a difference between fringe candidates and far-right candidates who actually appeal to the people.
Rove insisted it's not about ideological differences, it's about being a "bad candidate." He cited Marco Rubio as an example of a good conservative candidate, though O'Reilly suggested Rubio might be more of a moderate. Rove said his group spent more money on Tea Party candidates than any other group, admitting his disbelief will all the critics calling him a traitor.
Of course, O'Reilly then got onto a far more pressing topic: why is Rove trying to hurt Ashley Judd's feelings? Rove's group American Crossroads has an ad out attacking her as a radical Hollywood carpetbagging liberal, despite the fact she hasn't even announced anything about a potential run for Senate in Kentucky.
Rove said he didn't really spend a lot of money on the ad, but more importantly, he said he wanted to preempt a potential campaign because he does not want Kentucky in 2014 to be a repeat of Minnesota 2008. He explained that Al Franken ran a short campaign and successfully gambled on his likability, and so he decided Judd needed to be targeted early.
Watch the video below, courtesy of Fox News:
—–
Follow Josh Feldman on Twitter: @feldmaniac
Have a tip we should know? tips@mediaite.com
Josh Feldman - Senior Editor