Karl Rove Blasts Obama's Handling Of Scandals: 'Paying The Price' For Being 'Disengaged And Distant'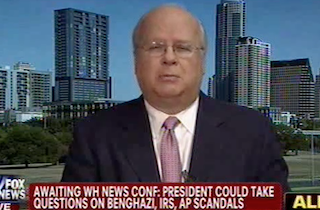 While the White House has largely been pleading ignorance as it tackles a trifecta of controversies, Karl Rove hasn't been buying it. During a Thursday morning appearance on Fox News, Rove criticized President Obama's handling of the scandals, reckoning that he's now facing the consequences of being "disengaged and distant."
Asked whether there's some sort of pattern — given that the president has said he had no knowledge about the controversies before the news about them broke — Rove noted that Obama has been absent.
"He is a disengaged and distant president," Rove stated, responding to Obama's handling of the Justice Department's snooping into the AP's phone records. "It's also a little bit appalling. I can't imagine that the attorney general and the Department of Justice would not have given the Office of General Counsel inside the White House a heads-up they were about ready to take this very broad step of asking for the phone records of 100 journalists and editors at the AP. I just can't believe that that would happen."
He does bear some responsibility for these recent issues, Rove added, specifically recalling the Obama's past remarks "denouncing" conservative 501(c)4 groups.
"You can't tell me some IRS bureaucrat in Cincinnati, Washington, California — all of which were conducting investigations of conservative groups — were not hardened by the president going out declaring groups they were looking at quote, enemies of democracy," Rove charged.
"The president is disengaged and distant," he reasserted, "but he is now paying the price for it."
Take a look, via Fox News:

Have a tip we should know? tips@mediaite.com