Karl Rove Blasts Sarah Palin's 'Enormous Thin Skin' About Campaign Speculation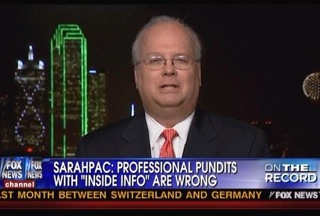 If Karl Rove had been trying to hide his complete contempt for Sarah Palin in the past for the sake of Reagan's eleventh commandment, he all but gave up on it tonight. Speaking to Greta Van Susteren tonight, Rove lashed out at Palin's statement that his speculation on her candidacy was wrong by repeatedly referring to her "thin skin" and daring Palin to "end the speculation" and say she isn't running if such speculation upsets her.
Van Susteren began the conversation asking Rove what it was about Palin that kept the media speculating, which Rove took as an opportunity to address a SarahPAC statement attacking him for having said that Palin's schedule in the upcoming months looks like the schedule of a presidential candidate. "I'm mystified," he admitted, "that she's all upset about this, that I'm somehow trying to sabotage her campaign, sabotage her in some way, and how dare I speculate on her future." Rove also responded angrily that "if she doesn't want to be speculated about as a potential presidential candidate, there's an easy way to end the speculation," yet whenever the issue comes up, "she says 'I haven't made a decision." Rove concluded adding a jab at Palin's lust for attention, calling it a "sign of enormous thin skin that if we speculate about her, she gets upset, and I suspect that if we didn't speculate about her, she'd be upset about it and trying to find a way to get us to speculate about her."
Van Susteren tried to bring Rove back from that precipice, asking him to instead "reflect on the media" and the fact that they continue covering her. Rove admitted that she was "a potentially big factor in the presidential election," and that "if she were to get in, she'd be a contender." That said, Rove concluded by calling Palin thin-skinned another two times before the segment ended– abruptly, without a goodbye, cut into by a "news break" that likely could've waited the extra three seconds.
The segment via Fox News below:

Have a tip we should know? tips@mediaite.com