Karl Rove Dismisses Tea Party Backlash: We Need 'Fewer Christine O'Donnells And More Rand Pauls'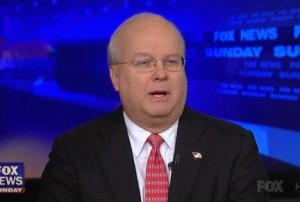 Through his new Conservative Victory Project, aimed at backing conservative candidates who will actually win elections, Karl Rove has upset some conservatives and Tea Partiers. This weekend, he paid a visit to Fox News Sunday, where Wallace confronted him with some of that backlash.
Rove said his favorite reaction was that of Mark Levin, who called him "queen for a day." They did spent $30 million on Tea Party candidates, Rove said, specifically citing Sen. Rand Paul (R-KY) and Sen. Marco Rubio (R-FL).
"Look, Todd Akin was not a Tea Party candidate," he added. Their objective, he said, "is to avoid having stupid candidates who can't win general elections. Who are undisciplined, can't raise money, aren't putting together the support necessary to win the general election campaign — because this money is too difficult to raise to be spending it on the behalf of candidates who have little chance winning in the general election."
Wallace interjected to play devil's advocate, pointing to critics' argument that there were plenty of poor establishment candidates as well. That's right, Rove replied, calling out Richard Mourdock but also placing blame on Sen. Richard Lugar (R-IN).
"What does it say about the Republican Party," Wallace asked, when someone like Rove steps in to essentially try to "police" the types of candidates who emerge from primaries… and moreover, when Tea Party favorite Rubio gives the GOP response to the State of the Union but the Tea Party still feels the need to give their own response.
Rove "never goes away," Bob Woodward replied. The party's problem is with messaging and connecting to voters, he added, yet the focus here seems to be on money, which he said isn't the issue.
Woodward's right, Rove said, elaborating on the need to research and examine candidates thoroughly. "The whole theory of Republicanism is to let the local state or district decide," Woodward countered.
We believe in markets, Rove said, but further examination "means fewer Christine O'Donnells and more Rand Pauls."
Take a look, via Fox News:

Have a tip we should know? tips@mediaite.com