Karl Rove Hopes Sarah Palin "Has A Tougher Skin" Than To Be Offended By Criticism Of Her Reality Show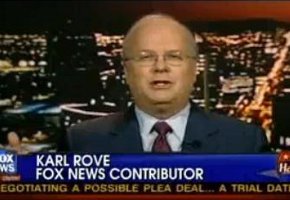 A while ago, Karl Rove wondered whether Sarah Palin starring in her own reality show was a wise idea for someone with lofty, and potentially presidential, ambitions. Palin fired back, and last night, Rove addressed the flap on Hannity – and clearly thought the reaction to his remarks was overblown.
Rove stood by what he said, and still didn't see what the fuss what about:
"Guess what: I'm a commentator, and I'm sorry if she took offense at it – I hope every candidate has a tougher skin than to be upset about something that I might say about them. I've said nice things about her, and I've raised a question…A confident candidate doesn't get thrown off by that; a confident candidate says, People are entitled to their opinion, I'm gonna do what I think is right for my own candidacy."
Sean Hannity defended Palin's honor, imploring Rove to realize that Palin will "be a force if she runs." Rove agreed, adding he's long said Palin would "be a formidable candidate" not only in the primary, but the general election. But he still wasn't sure why some of Palin's supporters got so worked up over his comments, and again said he "hope[s] she's got a thicker skin than that." Hannity said Palin's been the subject of enough criticism to prove she can take a punch, a fair point, but Rove shot back, "I wasn't punching her. I was making a comment." Video of the segment below.
Have a tip we should know? tips@mediaite.com