Karl Rove Is Completely Baffled By The Trump Debate: 'This Is Weird, Isn't It?'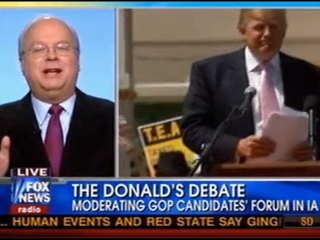 If anyone on cable news could claim to have "seen it all" on the campaign trail, it is Karl Rove*, but even the Republican campaign mastermind is having a hard time wrapping his head around the fact that Donald Trump is apparently moderating a Republican presidential debate. "This is weird, isn't it?" he asked the hosts of Fox & Friends this morning, elaborating that he didn't understand how someone threatening to run for president as an independent could moderate a Republican debate fairly.
RELATED: Wait, What? Donald Trump To Moderate Newsmax Sponsored GOP Presidential Debate
The conversation began with host Dave Briggs asking whether if, as a campaign adviser, Rove would want his candidate at such an event. "This is weird, isn't it?" responded Rove, noting that it was difficult to believe a candidate should they claim to go to the debate earnestly because "if they don't show up, they don't have a chance at the [Trump] endorsement." Rove was also taken aback by the venue: Ion TV. "Where is that? There are like 3,000 subscribers," he joked, "most of them to be found in Suquamish, Washington state… middle of nowhere." He went on to add that December 27th was an absurd time "let us give these people a little bit of a chance to spend time with their families!" and joked that the debate would be fun for the "40 normal people and every journalist and political junkie [who] will watch the thing."
RELATED: Republican Candidates Of Substance Should Sit Out Trump Moderated GOP Debate
The Fox & Friends hosts corrected Rove by noting that 100 million people subscribe to Ion TV, to which Rove joked, "How many of those 100 million know that Ion is on their television?" We know at least one person who will claim to not watch, but obviously watch as a guilty pleasure, the Trump debate.
The segment via Fox News below:



*Well, and perhaps James Carville, but he sort of proves to same point.
Have a tip we should know? tips@mediaite.com