Karl Rove On Fox News Sunday: Bringing Up Rev. Wright Now Is 'Stupid' Tactic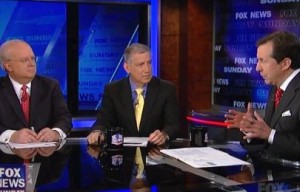 Today's Fox News Sunday panel took on recent attempts by a conservative Super PAC to bring Reverend Jeremiah Wright back into the news to link him and his views to President Obama. Karl Rove, a Super PAC leader of his own, said that bringing up Reverend Wright now, four years after it was dismissed as a viable campaign tactic by John McCain, is a "stupid" tactic for the Republicans to take and they should back off of that line of attack.
RELATED: Chris Wallace: 'McCain Was Crazy' For Not Attacking Obama On Rev. Wright In 2008
Joe Trippi said that Wright is irrelevant, but that doesn't make him off-limits. He added that thanks to Super PACs, both campaigns don't have as much power to control the message as they used to. Wallace turned to Rove and brought up his involvement in another Super PAC, American Crossroads, and asked him how exactly to make sure the ads being put out are helping the Republican candidate and not hurting them.
Rove said Super PACs do need to make sure they don't distract the race from what their candidate wants to talk about, and took some time out to dismiss all the recent talk of Reverend Wright.
"Trying to dredge up Jeremiah Wright, right or wrong, after this issue was litigated four years ago by John McCain, who decided not to litigate it, was stupid. And so, you want to try and do things that are helpful, not hurtful."
Watch the video below, courtesy of Fox:
Have a tip we should know? tips@mediaite.com
Josh Feldman - Senior Editor