Karl Rove on Hannity: Christine O'Donnell Interview "A Very Good Sign" For Campaign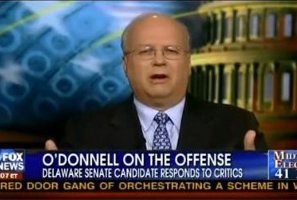 Karl Rove continued his media rounds tonight with a satellite appearance on Hannity, which he used to discuss Christine O'Donnell's appearance last night on the same program. After his much-talked about criticism of O'Donnell in the past week, it's safe to say after hearing her last night, Rove is coming around.
Rove tempered his own positive thoughts by noting how far behind she still is in the polls, but called her overall performance in last night's interview "a very good sign" that she can get people to "pay attention to her." Most notably, he said O'Donnell "handled the witchcraft issue great" – that "witchcraft issue," of course, being a major point of contention of Rove's.
In addition, he praised her for being "more forthcoming" about why she fell behind on her mortgage – O'Donnell told Hannity it was because she was doing pro bono PR work for a client, which left her unable to pay. He also liked that she's bringing "seasoned operatives" aboard for her campaign.
Rove acknowledged there are still questions he has about O'Donnell – he's still unsure what to make of her federal tax lien from the 2005 tax year, for example – but overall seemed duly impressed and said "she's on the right course, which is to recognize you got a problem. You can't solve a problem if you think, 'Hey, everybody's hunky-dory and I can just ignore these things."
Maybe now that Rove appears to be getting on the O'Donnell bandwagon, his relationship with fellow conservative power players like Sarah Palin will be a bit more hunky-dory as well. Video of Hannity and Rove's back-and-forth below.
Have a tip we should know? tips@mediaite.com