Karl Rove On Pastor's Anti-Mormon Remark: 'Cult' Comment Will Hurt Perry; 'Doesn't Belong In Politics'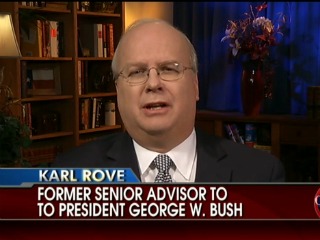 Laura Ingraham sat in for Bill O'Reilly last night on The Factor, where she spoke with political analyst and George W. Bush's Deputy Chief of Staff George W. Bush Karl Rove about a topic that's been the subject of many headlines over the years, and this week in particular: "The politics of Mormonism."
You'll recall, of course, that a pastor named Robert Jeffress recently and single-handedly created a distracting media firestorm after having referred to GOP candidate Mitt Romney's (and Jon Huntsman's) Mormon religion as a "cult" while introducing Rick Perry at last week's Values Voters Summit.
RELATED: Anti-Mormon Southern Baptist Leader Slams Mitt Romney's Faith As 'A Cult'
Rove felt that, while "we want our leaders to be people of faith," comments like those made by Jeffress muddle the issues and have no place in politics:
This is a terrible mistake on the part of the Pastor; it's the kind of thing that doesn't belong in politics. We want our candidates, we want our leaders to be people of faith, but we don't get into and we haven't gotten into since at least the 1960 presidential election in the determination over whether or not somebody's professed faith is acceptable to the vast majority of Americans.
Ingraham weighed in, sharing that it's unfair to allow Perry to be "sandbagged" by comments he didn't make, and wondering what kind of social and political climate we're in when one has to be careful to thoroughly vet the person introducing a candidate at a forum that isn't even his own. Rove was inclined to agree:
RELATED: Anti-Mormon Pastor Admits To CNN: Religion Should Trump Competence In Elections
Well, look, you have to. That's one of those lessons I learned in 2000. You may remember we had a guy introduce Bush in South Carolina who took a 2 x 4 to John McCain. We even vetted what his comments were supposed to be and he went off-script and attacked John McCain in a way that hurt Bush. And the same thing has happened to Perry here.

My problem, I wish Perry was a little bit stronger in denouncing this, but my problem is not so much with Perry. He's suffering some fallout from this. My problem is with the pastor. The pastor should not have said this.
Somewhat curiously, Rove then gave an example from the past, referring to President Abraham Lincoln as an "unorthodox Christian" and Stephen Douglas as a "real" Christian.
Have a look, courtesy of Fox News:
Have a tip we should know? tips@mediaite.com