Karl Rove On Pelosi's Arrest Claim: 'She Sounds A Little Bit Like Inspector Clouseau'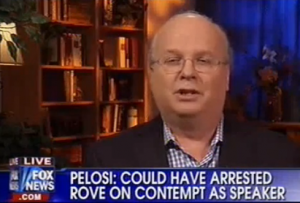 Not pleased with the contempt hearings yesterday, House Minority Leader Nancy Pelosi said she "could have arrested Karl Rove on any given day," but "we didn't." Rove took notice, responding to the remark during his appearance on Greta Van Susteren's show Wednesday night. She's "dead wrong," he said, likening her to Inspector Jacques Clouseau from the Pink Panther films.
RELATED: Pelosi Slams Contempt Hearings: 'I Could Have Arrested Karl Rove On Any Given Day'
In her comment, Pelosi went on to say, "I'm not kidding. There's a prison here in the Capitol … If we had spotted him in the Capitol, we could have arrested him." She added, "Oh, any number. But there were some specific ones for his being in contempt of Congress. But we didn't."
"She's absolutely dead wrong," Karl Rove said in response. He continued:
"Let's go back. June, July 30th [2007] — the House Judiciary Committee votes to hold me in contempt for the White House declaration that I could not be subpoenaed to discuss internal White House deliberations. And they recommended to the House that I be held in contempt, but the House of Representatives, under then-Speaker Pelosi, never took up the resolution and never voted on it."
The only way he could have been arrested, he said, is if the House had adopted the resolution — which it did not. Rove further commented on Pelosi:
So, it's nice to know that Speaker Pelosi wanted to have me arrested. It's nice to know that she thinks she had the power to but we're still a nation of laws and she has no authority to do so. And had she attempted to arrest me on any of the number times that I was in and out of the Capitol, without a resolution passed by the entire House of Representatives, she would have been up the proverbial creek without the proverbial paddle.
"She sounds a little bit like Inspector Clouseau and a little bit about the Mad Red Queen," Rove said, "but Speaker Pelosi was dead wrong in her assertion today, and I'm sure she had a good laugh, and it's nice to know that she dreams of slapping me in her own personal jail."
Have a look at the segment below, courtesy of Fox News:

Have a tip we should know? tips@mediaite.com