Karl Rove On Who He Thinks Will Consider Joining GOP Field: Palin, Christie And…Paul Ryan?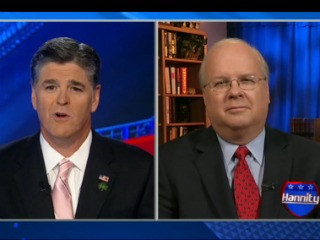 Karl Rove appeared on Hannity last night to give his take on the GOP candidate field so far. Host Sean Hannity kicked things off by summarizing what's been going on in Iowa and playing a clip of what can aptly be described as presidential hopeful Mitt Romney's stand-up act in New Hampshire (the "anointed one," as Hannity referred to him, being the butt of Romney's jokes). Then, Rove dove right in, eventually giving Hannity a money quote: That Barack Obama is in "deep doodoo."
Well, a lot of good things happened. I mean, it was a big boost for Michele Bachmann to win the straw poll. Let's not read too much into it though. I mean, there's seventeen thousand people who turned out. Iowa has three million, seven thousand people. So there were a lot of people who didn't show up at the straw poll, but nonetheless it's a good boost for her. Momentum probably gives her a jump up in fundraising; it certainly gives her a bigger part on the national stage. She went and did five Sunday talk programs as a result.

Perry has gotten in, I think, in a very adroit fashion. He leaked it, he dominated the news leading into the straw poll the day before he made it clear he was gonna get in, and so he dominated the pre-coverage. He announced on the same day, that gave him a part in every story. You know, Michele Bachmann led, but the second paragraph in most stories was Rick Perry getting in.

And then Mitt Romney had a good performance in the debate and maintained his lead as the front-runner, so we've got a good field. I don't think it's the end, though, of the field. I think we're likely to see several other candidate think seriously about getting in and, frankly, they have time to do so.
And who does Rove suspect will "seriously consider" joining the field by the November 22nd deadline? Former governor and Fox News contributor Sarah Palin, New Jersey governor Chris Christie and Wisconsin congressman Paul Ryan.
Watch Rove explain his reasoning (and his thoughts on President Obama being "in deep doodoo"), courtesy of Fox News:
Have a tip we should know? tips@mediaite.com