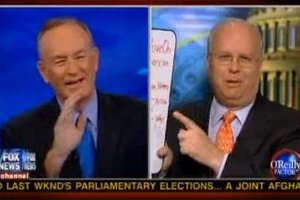 Monday night on the O'Reilly Factor, Bill O'Reilly played a clip of Sarah Palin giving a speech in Iowa on Sept. 17, during which she tried to galvanize the conservative base for the November elections – and cheer several prominent conservative figures into action, including Karl Rove, whom she encouraged to "see the light." After playing the clip, O'Reilly said, grinning, "Karl Rove will respond on the Factor tomorrow." Well, "tomorrow" came and went, but a funny thing happened: Rove appeared on O'Reilly's program last night…but didn't say a word about Palin.
O'Reilly talked to Rove for his "Unresolved Problems" segment. One main topic of discussion was the "uber-liberal" New York Times, and what Rove and O'Reilly saw as hypocrisy on the paper's part in reporting on "right-wing organizations…attacking the Obama administration" (and, according to O'Reilly, mentioning Rove's name in the process) while ignoring "that the left routinely does the same thing." This had some good moments, including a spirited debate over whether Rove was holding a clapboard or whiteboard (pictured) and Rove saying, "With all due respect to Bill Keller and the people at the New York Times…yeah, I think they do think ordinary Americans are stupid"…but no Palin.
It was the same for the second part of the segment, wherein Rove said he'd advise the Obama administration (were they to employ his services) to "stop attacking the Tea Party" because it "elevates" the movement. Still, though, no Palin.
Which begs the question…why? O'Reilly seemed excited at the prospect of Rove responding — and the fact the two have gone toe-to-toe over Christine O'Donnell speaks to a large and surprising rift in the GOP. Not to mention it would have made for some excellent TV. But either they decided the issues they discussed last night were too pressing to allow for time to talk Palin…or Rove, or O'Reilly, or someone involved, decided it was time to shut the back-and-forth down. Palin and Rove are among the most prominent contributors to Fox News, and too much sparring between the two of them might not be good for either Rove, Palin (not that she appears to care), or the network. Or perhaps Fox News is merely attempting to play peacekeeper for the GOP.
Call it another "Unsolved Problem." Video of last night's segment below, along with O'Reilly saying Monday that Rove would respond to Palin on his program.
Have a tip we should know? tips@mediaite.com