Karl Rove Responds To Sarah Palin's CPAC Thrashing, Rips Her For Quitting As Governor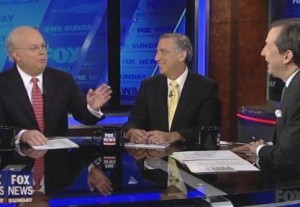 Republican strategist Karl Rove responded to the harsh comments former Alaska Governor Sarah Palin had for him at CPAC on Fox News Sunday this morning. Before taking a shot at Palin for not completing her term as governor, he said that Palin was actually in agreement with him on former Senate candidate Todd Akin and that he actually works pro bono for American Crossroads.
Palin said that consultants like Rove needed to "buck up or stay in the truck" so Chris Wallace asked, "Are you bucking up?"
"Well, first of all I live in Texas and not Washington. Second of all, look Sarah Plain should be agreeing with this. She didn't support Todd Aiken and when he said the reprehensible things he said. she said he ought to get out of the race," said Rove.
RELATED: Sarah Palin's CPAC Speech Trashes Establishment GOP, Calls Obama Liar, Reality Star
Rove continued that Palin endorsed in primaries and got involved in other races around so he didn't understand what the problem was with other people doing the same thing. He defended his work for American Crossroads saying he doesn't "take a dime from my work" with them and actually pays all of his travel expenses for the group out of his own pocket. "I'm thought Sarah Palin was about encouraging grassroots activity. I'm a volunteeer," said Rove.
Then he took a shot across her bow.
"I appreciate her encouragement that I ought to go home to Texas and run for office. I would be enthused if I ran for office to have her support but I don't think, I'm a particularly good candidate, a balding fat guy. Second of all, if I did run for office and win I would serve out my term and I wouldn't leave office midterm," said Rove.
Democratic strategist Joe Trippi chimed in and said you never want to see a political party fighting with itself like this. Saying that it "doesn't bode well for 2014 and 2016" for Republicans.
"These two or three wings are going to have a fight for the presidency," said Trippi.
Rove called the fights "nothing new and nothing exceptional" for a political party that is out of power.
Watch clip below via Fox
Have a tip we should know? [email protected]