Karl Rove Takes On Critics: Too Many GOP Groups More Concerned With 'Profits' Than 'Advancing The Cause'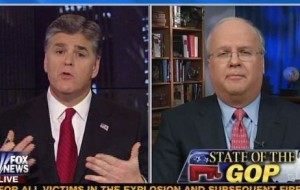 Karl Rove has become the enemy du jour for conservatives these days after starting a new group aimed at weeding out unelectable conservative candidates from Republican primary races. The most recent attack against Rove was a Tea Party group Photoshopping him as a Nazi. Rove stopped by Sean Hannity's show tonight to continue defending himself, and ended up pointing fingers at other conservative organizations where the people in charge are more interested in "fees and profits" than actually "advancing the cause."
RELATED: Karl Rove Responds To Tea Party Criticism: We Need Conservatives Who Can Actually Win Races
Hannity brought up a contentious back-and-forth between Rove and Bob Woodward on Fox News Sunday, as well as Newt Gingrich piling on the criticism of Rove. Hannity first asked Rove about the Nazi comparison, which Rove simply dismissed as a lack of "adult supervision" on the part of the group that distributed it.
Rove found it interesting that there was more attention given to the Nazi attack than Woodward claiming Rove is trying to create a "politburo." He slammed Woodward for having the nerve to suggest he should get out of politics, and the media for not giving that much coverage to Woodward as opposed to the Nazi attack because "they love the idea of conservatives kicking other conservatives."
Hannity said his hope for 2014 is that the Tea Party becomes re-energized, asking Rove if what's happening within the Republican party is just a natural response to losing an election. Rove acknowledged that there are too many conservative groups
"We do have a problem on the right. We have too many organizations that are run by consultants who are more concerned with their fees and profits than they are with advancing the cause."
Rove argued that donors to his group should have the right to be more involved in primaries to make sure their side ultimately takes the seat in question, because if they're going to put so much money into these races, they don't want to end up coming up short because the Republican nominee they ended up with is just too out there to win.
Watch the video below, courtesy of Fox News:
—–
Follow Josh Feldman on Twitter: @feldmaniac
Have a tip we should know? tips@mediaite.com
Josh Feldman - Senior Editor