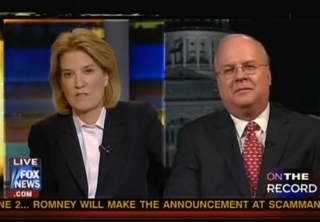 At this point in the 2012 political scene, it's no secret that Karl Rove isn't Sarah Palin's biggest fan. But just in case it's been forgotten, Rove made that once again abundantly clear on tonight's On the Record, where he compared Palin to failed Democratic candidate George McGovern, questioned her understanding of how presidential primaries work, and told Greta van Susteren he doesn't see her thinking "the rules apply to her."
With renewed speculation that Palin may run for President, van Susteren asked Rove to evaluate the possibility of Palin putting together a successful campaign for the primaries. "I think it's the emergence of a potential race," Rove said of her weekend bus tour, adding that, given that the tour isn't going to go to most primary states and will do no real fundraising, it appears "she thinks the rules don't apply to her." "She doesn't need to have the traditional trappings of a presidential campaign," he elaborated, including "no finance committee" nor the need to "go shake a lot of hands in Iowa, New Hampshire, South Carolina." "Is she right in thinking [the rules don't apply]?" van Susteren asked.
Rove didn't give a yes or no question to that, but noted that Palin was captain of her own ship, and but added the caveat that, if she believed large crowds on a tour were an indication she would do well in a primary she was wrong, noting that some of the biggest crowds in modern history came out for George McGovern, who lost a landslide defeat against Richard Nixon in 1972. "There's a difference between crowds and what you need for a campaign," Rove warned. That said, he argued there was a chance that Palin had hit on something completely new in politics, noting her presence on Facebook and Twitter without "being inside the Beltway." Overall, he didn't seem too confident that this campaigning would work out, but definitely left the door open for the possibility that Palin's new media campaigning would revolutionize the political landscape.
The segment via Fox News below:

Have a tip we should know? tips@mediaite.com