Karl Rove Wants 'Criminal' Julian Assange 'Hunted Down And Grabbed And Put On Trial'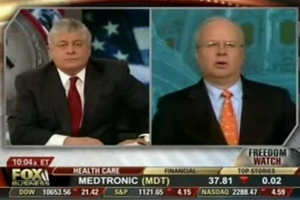 It's been a long time since the time when Americans used to hear Bush administration "smoke 'em out" national security language, so it might have felt like a bit of a flashback to watch this morning's edition of Freedom Watch, where Karl Rove called for the "hunting down" of a "criminal" aiding Al-Qaeda and the Taliban. And it may have taken a second listen to realize who he was talking about: Wikileaks ringleader Julian Assange.
Speaking to host Judge Andrew Napolitano, Rove noted that there were deliberations between the media and the White House under the Bush administration, though they were not completely successful. In fact, he said negotiations with the New York Times "totally failed," giving Al-Qaeda helpful advice by publishing leaks. That, however, did not seem to compare in Rove's mind to having an entire institution like Wikileaks dedicated to releasing military information:
"The head of Wikileaks is not a very credible source in my mind. He is, to my mind, a criminal and he ought to be hunted down and grabbed and put on trial for what he has done here. He has put at risk lives of Afghanis who have given information to both afghan and US and coalition forces about Al-Qaeda and Taliban, and there are Taliban and Al-Qaeda, I'm convinced, going over these documents and identifying the villages and the people that gave the information, and there will be blood on this man's hands."
Napolitano followed up with a question about whether it was even possible to arrest Assange– not because he has no definite home and seems to have an endless supply of funding to travel with– but because, under the law, media outlets are exempt from arrest, as they were not the ones who stole the information from the government. Rove was more than dismissive with the idea that Assange and his website counted as "media," calling him a "conduit" and remarking, "if he meets the definition of a media outlet, than anybody with a blog posting is media and therefore exempt."
Rove also spoke with Napolitano about domestic issues like federal health care reform, states' rights, and federalism– the latter practically a requirement for the program.
The segment from this morning's Freedom Watch on Fox Business below:
Have a tip we should know? tips@mediaite.com