Karl Rove's Whiteboard Tells Dana Milbank To Chill Out About O'Reilly's Beheading Joke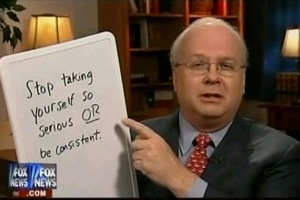 Bill O'Reilly took Dana Milbank's bait. After Milbank accused Fox News' election coverage of overt bias in his Washington Post column, O'Reilly and Megyn Kelly debunked his claims, O'Reilly going as far as to make a joke about Milbank being beheaded under sharia law, and predicted Milbank would take it literally. He did, and it earned him the full first segment of tonight's Factor.
"Fox hater" Milbank was the crux of O'Reilly's "Talking Points" memo, where he recounted the story thus far and read from Milbank's latest column, where the latteer quipped, "Hilarious! Decapitation jokes just slay me, and this one had all the more hilarity because the topic of journalist beheadings brings to mind my late friend and colleague Danny Pearl, who replaced me in the Wall Street Journal's London bureau and later was murdered in Pakistan by people who thought sharia justified it." Milbank also noted that he believed the irritation from the right at him was more about his Glenn Beck blockbuster than his comments, though O'Reilly didn't mention that. Instead, he clarified that, while Milbank said "I would like violence to befall him. Not true! I would like honesty to befall him."
Karl Rove didn't have much to say about the Beck issue, either. Instead, he tried to cheer Milbank out of his "snarky" demeanor so as to get him to stop writing "bitter and brittle and nasty" columns, brandishing a white board with the words "Stop Taking Yourself So Seriously or Be Consistent" on it.
The segment from tonight's Factor via Fox News below:
Have a tip we should know? tips@mediaite.com