Kasich Challenges Scarborough on Trump: 'You Guys Have a Lot of Responsibility for This'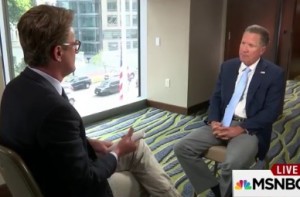 An interview with MSNBC's Joe Scarborough got a little bit contentious when Republican Ohio Governor John Kasich accused the press of propping up Donald Trump's presidential campaign and Scarborough pushed back against the notion.
"What happened with Trump? How did Trump happen?" Scarborough asked.
"I know why; the media gave him two billion dollars worth of free press," Kasich responded. "I mean, I could be having a press conference and they'd have an empty podium with Trump speaking there. I mean, look, you guys have a lot of responsibility for this. You know it too. You all know it, you know?"
"One famous network executive said, 'Well, you know, Trump may not be good for the country but he's good for our ratings, and we make more money.' I think the elites have let us down in a lot of places, and I think, you know, two billion dollars worth of free press? You couldn't get enough of it," Kasich said.
Scarborough clearly took that personally. "Was there ever a time though where you said you wanted to be on our show where we didn't let you be on our show?" he asked Kasich.
"I'm not talking about you, Joe, I'm talking about the coverage," he responded.
"The thing about Trump was, though, he'd just pick up the phone and call," Scarborough said. "You could attack him, he'd pick up the phone and call… Trump knew how to play the press."
But Kasich wasn't buying that answer. "Look, it was all ratings. Come on, who's kidding who?" he shot back. "I'd call in, you'd get no ratings. He calls in, you get good ratings."
"That's not true–" Scarborough began.
"Hey, Joe, come one, now you're not leveling with me…" Kasich responded. "You know that there was a lot of fixation on him by the media, which is changing now."
"Well, when the guy would say outrageous things…" Scarborough began again.
"So you focused on it," Kasich finished for him. "That's my point."
Watch above, via MSNBC.
[Image via screengrab]
——
>>Follow Alex Griswold (@HashtagGriswold) on Twitter
Have a tip we should know? tips@mediaite.com