Kathleen Parker Warns Her Former Co-Host Eliot Spitzer: Wall Street Enemies More Dangerous Than Sex Scandal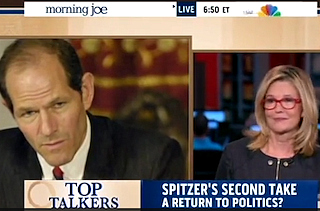 Former Parker Spitzer cohost Kathleen Parker spoke to Morning Joe about the news that her old sparring partner Eliot Spitzer would be running for New York comptroller, his first foray into politics since a prostitution scandal forced his resignation from the office of governor.
Parker intimated that his biggest challenge would not be overcoming his salacious past, but the enemies he made with his aggressive investigations of the financial sector.
"I don't know that the things for which he's best known are his greatest obstacles to redemption, if that's what he's seeking," Parker said. "I think a lot of people question his style, going after Wall Street."
Parker, a conservative Washington Post columnist, worked with Spitzer on their short-lived CNN show, though she left after only four months.
"Eliot, like all people, is a complex figure," she said. "He can be beguiling, extremely charming…But as he's described himself, he can also be a stream roller."
"I used to walk down the street with him frequently and people would race to speak to him," Parker said. "Cab drivers would cross four lanes of traffic and slam on the brakes to say, 'Good morning, governa!' There are a lot of people who think highly of him. They certainly think he's competent in the role he wants to play now."
Host Mika Brzezinski asked Parker if she was "conflicted" on Spitzer's run, as she seemed to be stopping well short of endorsing him.
"I wish Eliot the best," Parker said. "That's where I will leave it."
Watch the interview here, via MSNBC:
[h/t Politico]
—
>> Follow Evan McMurry (@evanmcmurry) on Twitter
Have a tip we should know? tips@mediaite.com