Kathy Griffin Scolds Elisabeth Hasselbeck Over Obama Question: 'Take It Down A Notch, B*tch!'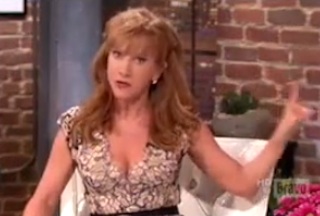 During a segment on Bravo's Kathy on Thursday, Kathy Griffin tore into Elisabeth Hasselbeck's critical question to President Obama on The View about gay marriage, where Hasselbeck asked the president how he would "move things forward any more than Mitt Romney." With Hasselbeck's "attitude to the president, who was a Harvard Law professor, I'm, like, take it down a notch, bitch," Griffin said.
RELATED: Obama Talks Gay Marriage, Romney, And The Kardashians On The View
"That body language," Griffin added, "I don't like that. I don't like Jan Brewer in Arizona going like this to the President on the tarmac. I don't like that. When I was on The View, Barbara Walters said you respect the office."
Griffin then played President Obama's response and continued to criticize Hasselbeck for her tone:
I mean, I just love the first sentence, which is, 'Actually, Elisabeth, that's not true.' So, I like how he's so patient with her. […] No, don't show that nice pretty picture of her. Do not, after all that…after all the names she's called me, show the fucking crazy face, okay? But, anyway, so what do you think that moment was like? I mean, what do you think it was like for Elisabeth Hasselbeck, a runner-up from Survivor, to be, like, stepping up like that to the president, and then, by the way, not being completely accurate.
One of Griffin's guests countered that President Obama later tweeted that Hasselbeck was his "favorite Republican."
"I mean, look, he's a gentlemanly guy, and he probably said it, but, you know, I'll say she's a c**t," Griffin replied.
Watch Griffin blast Hasselbeck below via Bravo:

(
h/t Newsbusters
)
Have a tip we should know? tips@mediaite.com