Kathy Griffin Tells Anderson Cooper She Will Be 'Recreating Nancy Grace's Nip Slip' On New Year's Eve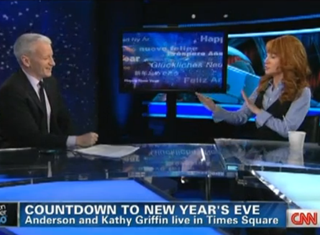 Tomorrow marks the fifth anniversary of the first New Year's Eve in which Anderson Cooper courageously accepted co-hosting CNN's last broadcast of the year with unpredictable comedienne Kathy Griffin, and she has yet to disappoint in the ways she inspires, as Cooper put it, "dread" in her co-host. Tonight she appeared on Anderson Cooper 360º to discuss tomorrow's ceremonies, and promised various stages of undress– and possibly a drive-by disturbance of Paul Begala.
RELATED: Kathy Griffin's Goal Is To Get Anderson Cooper Fired This New Year's Eve By Exposing Herself On CNN
Griffin slipped easily into her role of annoying or ridiculing Cooper lighthearted, starting by pointing out that he has an "overly giant font" on his Blackberry, like a grandmother would. After a few Ryan Seacrest jabs, Cooper politely asked how worried he should be about Griffin. "You should be very worried," she advised, and out of the blue asked what Paul Begala was up to for New Year's. Cooper didn't know, but offered that they could call him on air.
RELATED: Wardrobe Malfunction! Nancy Grace Lets A Nipple Slip During DWTS Performance (NSFW)
Griffin also gave away one of her big "unveils" for tomorrow: "we will be recreating Nancy Grace's nip slip… I will be showing one full breast because it's nature and it's beautiful." Cooper tried to move past this shocking revelation to questions about Grace and her HLN colleague Jane Velez-Mitchell, but the threat still stands.
The segment via CNN below:

Have a tip we should know? tips@mediaite.com