Kathy Griffin Visits Conan, Fondly Remembers That Time She Kissed Anderson Cooper's 'Sardine'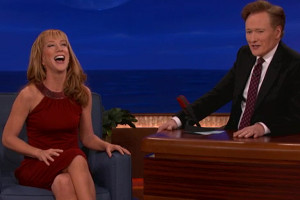 Wherever Kathy Griffin goes, parades of genitalia references follow. Well, she appeared as a guest on Conan recently, and you can guess about how that went. Perhaps predictably, the comedienne spent much of her time with Conan O'Brien regaling him with the story of the time on New Year's Eve when she, well, tried to blow Anderson Cooper (oh, and tickle his sack), even though that was weeks ago at this point.
Griffin provided some context for those who might have missed the entire segment amidst the "KATHY GRIFFIN JUST STUCK HER FACE IN ANDERSON'S CROTCH YOU GUYS" headlines – the ostensible reason she did that, if you didn't see it then, was because they were talking to a guy from Eastport, Maine whose town has a New Year's Eve tradition of lining up to kiss a giant sardine sculpture for good luck (the town housed the nation's first sardine cannery). And then she kissed Cooper's crotch, because sardine = penis, apparently. (Even for those of us who'll admit penises aren't exactly the most appealing things in the world taken on their own, pretty harsh comparison, Kath.)
But it wasn't just Cooper's genitals that took center stage on Conan (aside: had a giant model of Anderson Cooper's genitals actually taken center stage on Anderson Live, the resulting interest might have been enough to save the show) – Griffin also found a way to turn the phrase "dead moon" into a reference to her vagina, because if you say anything, she will find a way to equate it someone's genitalia. Not that this is the worst thing in the world, mind you – there's an undeniable market for it. Griffin said it herself when she detailed her relationship with CNN:
"Every January 1 I get fired, and they want me to apologize, and then I don't, and then… at the 11th hour, they re-hire me."
Because everyone knows they're not really mad at Kathy Griffin for doing wacky suggestive things – if that were the case, they wouldn't, you know, keep bringing her back year after year. And that's why, when Conan asked her if she thinks CNN will have her back when next New Year's Eve rolls around, she was able to answer confidently, "They'll be begging." She's not wrong. The only question: what will December 31, 2013 have in store for Anderson Cooper's penis? We fully expect to find out. Video of the Conan segment below, via Team Coco.
—
Follow Glenn Davis on Twitter: @glennrd
Have a tip we should know? tips@mediaite.com