Katie Couric And Larry King Once Went On A Date That Resembled A 'Bad Lifetime Movie'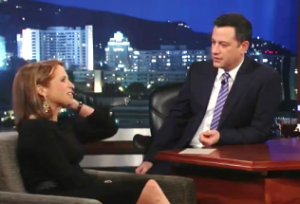 On his show last night, Jimmy Kimmel told his guest Katie Couric that Larry King once said the two went on a date — and he refused to believe it. Believe it, Couric told him, narrating how the night went. (Hint: awkward.)
Couric said she was 30 years old at the time, willing to go out with anyone who asked because it could be a learning experience. King asked her to dinner when they were both living in Washington, D.C., and she agreed. They went to "one of these Italian restaurants where they put you right next to each other like they do all the men and their 'nieces.'"
She noted that King has a different recollection of the date, and continued to offer her story:
"We had a nice enough time and we're going home, and I see that we're going over Memorial Bridge, and this is not the way to my apartment. I said, 'Larry, where are we going?' And he said, 'My place.' Oh mother of god."
His apartment was covered in "Larry King Day" proclamations and "keys to every city in the country," Couric added, quipping, "That was sexy."
"So we sat there, and what can I say? He lunged […] And I started laughing a little bit because the whole situation was out of a bad Lifetime movie. I said, 'Larry, you're such an interesting, nice man, but I would like to meet someone a little closer to my age.'"
In King's version of the story, Couric said, he couldn't go upstairs to Couric's apartment because of her roommate — but she said she didn't have one. (The Hollywood Reporter notes: "King told his version of the story on Jimmy Kimmel Live in 2009, claiming that Couric's roommate at the time was Wendy Walker, who later became King's executive producer. 'Nothing happened with Katie and I,' he said.")
Regardless of whose version is true, the story is quite entertaining.
The clip below, via ABC:

Have a tip we should know? tips@mediaite.com