Katie Couric Documentary Accused of Deceptively Editing Gun Activists' Remarks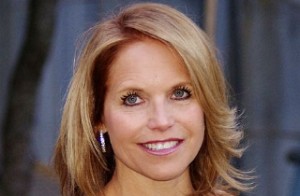 A gun rights organization has accused veteran journalist Katie Couric of deceptively editing interview footage to make them look like idiots, and they have the audio to prove it.
Couric is the narrator and executive producer of the documentary Under the Gun. In the film, Couric interviews the Virginia Citizens Defense League about their views on gun control. She appears to stump them, asking a question no one can answer, prompting them to hang their heads low.
"Let me ask you another question," Couric says. "If there are no background checks for gun purchasers, how do you prevent felons or terrorists from purchasing a gun?" Their response? Several seconds of silence.
But the group released audio they had recorded of the interview to the pro-gun website Ammoland, which proves that they did answer the question immediately. "If you're a felon and you've done your time, you should have your rights," one of the Virginians responded.
"Well the fact is, you do have statutes both at the federal and state level that prohibit classes of people from being in possession of firearms…" another man responds. "What we're really asking about is a question of prior restraint, how can we prevent future crime by identifying bad guys before they do anything bad. And the simple answer is, you can't."
UPDATE –– 5:12 EDT: Director Stephanie Soechtig issued a statement this afternoon saying, "I never intended to make anyone look bad."
Watch above, via Under the Gun.
[Image via screengrab]
——
>>Follow Alex Griswold (@HashtagGriswold) on Twitter
Have a tip we should know? tips@mediaite.com