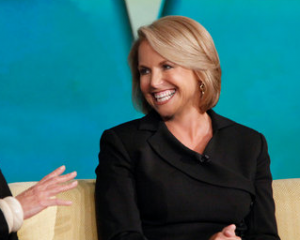 Fear not, America: your concerns over the fate of Katie Couric's television career will be addressed today. And she's going to be fine, really, truly fine. In The New York Times, Bill Carter writes the deal, expected to include a syndicated talk show and a role for Couric on ABC News shows, will be worth millions. "One of the chief negotiators in pursuit of Ms. Couric, speaking anonymously last week because of the confidential nature of the talks, said, "We all know what we're looking at with a successful syndicated show — $100 million to $300 million a year" in revenue. As host and co-owner, Ms. Couric's own take each year could be tens of millions of dollars.
For Couric, the ABC move means getting back to a more relaxed format–and a wider range of topics. It also reunites her with Jeff Zucker:
From the start, Ms. Couric made clear that her full partner in the syndicated show, both on the production and business side, would be Jeff Zucker, the former chief executive of NBC, who wanted to make his return to television in a control room as executive producer of the talk show. That was his role on "Today," when he and Ms. Couric, along with Matt Lauer, steered the NBC program to ratings dominance that continues unabated.
In a fascinating twist revealed by Carter, NBC's bid to land Couric and her new show got off to an bizarre start back in February, when the network's team, gathered for a low-profile meeting with Couric and her agent, chose the very same hotel where Keith Olbermann had arrived to meet with Al Gore and the Current team, a revelation that caught NBC off guard:
Mr. Olbermann, the one-time star of MSNBC, had left the network acrimoniously just two weeks earlier, and he and the Current retinue were in the meeting room directly next to the one NBC had rented for the Couric negotiations.

"It was awkward," a senior NBC executive said.
Have a tip we should know? tips@mediaite.com