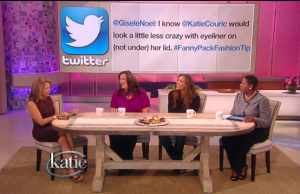 Katie Couric used her daytime talk show today to draw attention to the issue of "trash talk" and whether there is a pervasive "culture of cruelty" in the United States. It's a topic that has been addressed many times before, but is anonymous trash talk on the internet really a big problem? Couric talked about the issue with a clinical psychologist and news anchor Jennifer Livingston, who now-famously responded to an anonymous viewer scolding her for being overweight.
RELATED: Local News Anchor Smacks Down Viewer Who Called Her Overweight
One of main topics addressed during the "trash talk" discussion was anonymous online commenters who say and tweet mean things about celebrities. There is truth to the idea that anonymity gives people freedom to say things they would not otherwise say. People can be randomly nasty when the situation rises, and more often than not it's hard to tell the difference between a troll and someone who thinks they're making a serious point (thanks, Poe's Law).
But there's an important distinction to make when talking about nasty online chatter. First of all, it's never as simplistic as "why are people so mean on the internet?" In the quiz posted on Couric's website, questions are asked like "Do you go to Facebook or Twitter daily to get things off your chest?" or "Do you feel it is 'your duty' to speak the truth or bring attention to the obvious?" or "Have you ever used social media to say something negative about someone?" According to the quiz, if you answered all three of those questions with "YES," you might just be a mean person.
In the case of people like Livingston, and given the context of her particular situation, there of course should be some concern over the coarseness of how we communicate. But there's a quantifiable difference between targeting someone like Livingston and targeting someone like, say, President Obama. If someone tweets "Obama ur policies suck and ur a bad president," are they a bully? No. Because the word "bully" implies power. To be a bully means you have the ability to intimidate someone. Anonymous people on the internet will never be able to bully politicians like Obama or big-name celebrities because they lack power.
You can feel sympathetic for someone like Livingston, a local news anchor, who gets nasty comments directed towards her, but it's much harder to find any sympathy for celebrities complaining about their "haters." There was actually a TV show dedicated to the very premise of getting celebrities to confront their online haters, which came under fire from a number of critics who said the show fundamentally misunderstands the idea of bullying.
Do you think trash talk is a big problem in modern culture? Post something in the comments section below, and resist the urge to make the point self-evident.
Watch a brief segment of the discussion below, courtesy of ABC:
Have a tip we should know? tips@mediaite.com
Josh Feldman - Senior Editor