Katie Couric to Bernie Sanders: Aren't You and Rand Paul in 'Lockstep' on NSA?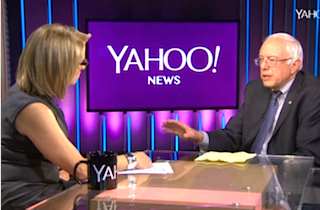 On the issue of NSA surveillance and the Patriot Act, Democratic presidential candidate Bernie Sanders probably has a lot more in common with Republican candidate Rand Paul than he does with Hillary Clinton. The senator reluctantly admitted that fact during an interview with Yahoo News' Katie Couric Monday afternoon.
With Sen. Paul successfully blocking the vote on the USA Freedom Act and allowing certain provisions of the Patriot Act to expire over the weekend, Sanders confirmed that he still plans to vote against the NSA reform bill passed by the House when it likely comes to the floor later this week.
"You and Rand Paul seem to be on the same page when it comes to letting this expire," Couric said of the Patriot Act, to which Sanders replied, "In many respects we are." Later, when Couric suggested her and Paul were in "lockstep" on the issue, he said, "I wouldn't say in lockstep, but we both have the same concerns."
"It doesn't go far enough in protecting our privacy rights," Sanders said of the reform bill. While he appreciates that it takes phone meta-data out of the government's hands, he said, "There are still too many opportunities for the government to be tallying and collecting information on innocent people."
"We are moving toward an Orwellian society where Big Brother in the corporate world and the government have too much personal information about innocent people," Sanders added, sounding a lot like his colleague from the other side of the aisle.
Watch video below, via Yahoo News:
[Photo via screengrab]
— —
>> Follow Matt Wilstein (@TheMattWilstein) on Twitter
Have a tip we should know? tips@mediaite.com