Katrina Vanden Heuvel: 'Too Much Kumbaya' In Obama Compromising With GOP 'Fanatics'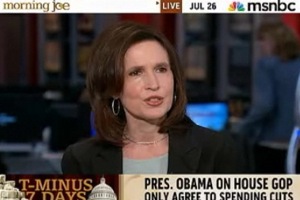 Editor of the liberal magazine The Nation, Katrina vanden Heuvel expressed her disappointment with President Obama to the Morning Joe crew. She wondered why Obama was still sounding like "more of an educator-in-chief" trying to stay above the fray, when the progressive movement has been so desperate for him to seize this moment and to shape the debate on their terms.
With the Tea Party freshman Republicans setting the terms of the "deal" and possibly on course to get much of what they wanted, vanden Heuvel didn't hold back with her opinion of them:
"We as a country have been held hostage by these reckless, extremist fanatics – but that the President is ensnared in a trap . . . he is in this trap, I would argue, because last night he showed a little more grit than kumbaya, but there is way too much kumbaya in this President for the moment we are living in. Real leadership does demand compromise, but real leadership cannot be defined by compromise."
Later she scaled back her critique of Obama slightly, thinking he wasn't completely to blame since the "system is warped by corporate money, lobbyist money" that it makes real change difficult. Yet her argument that "job creation is the best deficit reduction plan we could have" convinced Scarborough of a larger point.
Throughout Obama's term, first the focus was on healthcare, and now it's on debt, yet the American people have consistently been worried most about one thing: jobs. Scarborough was baffled (after earlier being stunned) that both Republicans in Congress and Obama continue to spend time on issues that indirectly impact job creation, rather than trying to tackle the main problem directly. Although, could the scary realization be that the reason both parties hesitate to focus on jobs directly is because they are truly unsure of what policy to adopt to help create them?
Watch the clip from MSNBC below:
Have a tip we should know? tips@mediaite.com