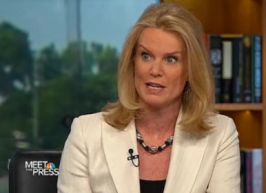 This is a theory I have not heard explored before. During a Meet the Press roundtable discussion this morning about Faisal Shahzad, and how he presents a new kind of threat in so far as he is an American citizen. Guest Katty Kay speculated that the very racial profiling that Muslim-Americans are forced to undergo whilst traveling in the United States in the end might be precisely what radicalizes them.
The issue of screening is one that Eric Holder raised. It is something that whether we say it or not is happening. I'm sure there is more scrutiny of Pakistani Americans coming into the country than there might be of other Americans coming into the country. It's happening already. Whether there's an argument about whether that kind of racial profiling drives people to extremist. I've heard moderate Muslims in America say they've known people who were moderate who felt when they felt racial screening at airports have actually then turns towards extremism. It's a dangerous weapon, racial screening. i think it's already happening here but it is something that has to be used carefully.
As I said it's a new twist on the immigration debate — particularly as it portends to how we deal with terrorist threats — and a wildly explosive one at that. Racial profiling is the core concern for many people with regards to the new Arizona immigration law — AG Holder expressed concern this morning that the law may potentially lead to it — but it's something more people are leaning towards when it comes to airport security. If this segment was any measure it may not only be the point these two ultra hot button issues dovetail on, but what drives this summer's overriding debate. Video of the segment below.

Have a tip we should know? tips@mediaite.com