NBC's Katy Tur Calls Out Trump For Doing 'Totally False They-Don't Show-The-Crowds Riff Again'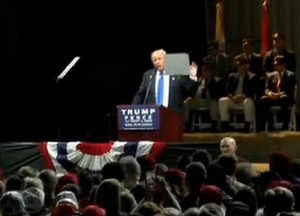 During a rally this evening in Selma, North Carolina, Republican presidential nominee Donald Trump once again made the claim that the "dishonest" news media doesn't want to show the size of his crowds. He complained that the camera just focuses on his face so when it is shown on TV, viewers don't get to see how big the crowd is.
As you may recall, earlier this week Trump singled out NBC News' Katy Tur over this, saying she wouldn't report on the crowd size. This led to Tur getting harassed by rally goers, which eventually gave us the #ImWithTur hashtag on Twitter for those expressing sympathy for the reporter.
It should also be pointed out that Trump apparently is very aware that the pool camera which is used for broadcasts is fixed on him. However, it hasn't stopped him from making this complaint at various rallies.
Tur and other reporters on the scene commented on Trump's remarks tonight.
Trump does his totally false they-don't-show-the-crowds riff again as — you guessed it — the cameras are showing his crowds.

— Katy Tur (@KatyTurNBC) November 4, 2016
Women yell "turn the cameras" at my camera which is pointing directly at them and in the opposite direction of Trump.

— Katy Tur (@KatyTurNBC) November 4, 2016
Trump again slamming the media because the pool camera films him as he speaks instead of showing crowd

— Rosie Gray (@RosieGray) November 4, 2016
As many others have said, idea that there's some kind of media blackout on Trump's rally crowds is completely ludicrous.

— Rosie Gray (@RosieGray) November 4, 2016
Trump is (again) criticizing press for not showing the crowd. Meanwhile, the crowd is screaming at press to move the cameras out of the way.

— Olivia Nuzzi (@Olivianuzzi) November 4, 2016
Watch video of the rally above, via Right Side Broadcasting.
[image via screengrab]
–
Follow Justin Baragona on Twitter: @justinbaragona
Have a tip we should know? tips@mediaite.com