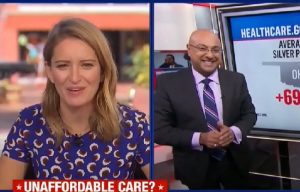 Following a segment on MSNBC in which brand-new hire Ali Velshi discussed rising Obamacare rates, host Katy Tur gave him some helpful advice when it came to dealing with his new co-workers.
Velshi, who previously worked for CNN and Al Jazeera, is now NBC News' Chief Business Correspondent and an anchor on MSNBC Live. He went over the increased premiums impacting the Obamacare insurance exchanges, noting that many people can get cheaper plans that they currently have or utilize subsidies.
As he finished up, Tur — filling in for Kate Snow — let Velshi know it was nice to meet him and informed him about what to expect in the halls of MSNBC.
"Ali Velshi, watch your back in the halls," Tur explained with a laugh. "It's every man or woman for his or herself."
Last year, MSNBC went through a huge purge of talent, with a number of mid-afternoon shows being axed and numerous people being let go. Recently, Melissa Harris-Perry and Alex Wagner left the network.
Watch the clip above, via MSNBC.
UPDATED 5:18 PM: Tur responded on Twitter stating that based on the context of the entire segment, it was obvious that this was a joke about her nearly running over Velshi in the hallway earlier. Therefore, this line shouldn't be construed as anything to do with competition between co-workers or the workplace environment at MSNBC.
Great headline, but if u saw the top of the interview you'd know I was joking about accidentally running him over in the hall the other day. https://t.co/4zsMn7kowR

— Katy Tur (@KatyTurNBC) October 25, 2016
[image via screengrab]
–
Follow Justin Baragona on Twitter: @justinbaragona
Have a tip we should know? tips@mediaite.com