Keep Your Clothes On: Elizabeth Warren Out-Raises Scott Brown 2 to 1 In Third Quarter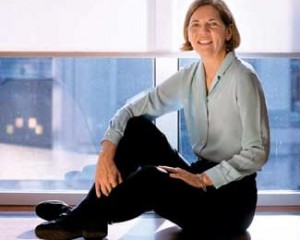 In a somewhat scary development for first-term Sen. Scott Brown (R-MA), Democratic challenger Elizabeth Warren's campaign has just released its first fundraising numbers since she joined the race, and the trend is stark. Warren raised $3.15 million since August 30, while Scott Brown, who already had a substantial fundraising lead on Warren, took in only $1.55 million. Warren's haul and her performance in early polls have at least one conservative wondering if Republican fundraising committees should cut bait on Brown.
Brown's election to the Senate seat vacated by the late Ted Kennedy was a pivotal moment for Republicans, as it broke the Democrats' filibuster-proof majority in the Senate, and nearly scuttled President Obama's health care reform bill. Since then, though, Brown has proven to be one of the few GOP members of Congress who could be described as, in any way, moderate, belying his brief status as a bogeyman for the left . He was aided in his quest for that seat by a Democratic candidate whose strategy might as well have consisted of correcting the spelling of the word "Sox" in and around Boston.
Now, Brown faces Elizabeth Warren, creator of the Consumer Protection Bureau and outspoken advocate for the middle class whose decimation of the "class warfare" construct has become a rallying point for populist anger at income inequality. Warren's heroic status among progressives likely contributed to her $3.15 million take:
According to an email to supporters from Warren's campaign, 96 percent of contributions were of $100 or less, with 11,000 donors coming from in-state.
If you do the math, that means that at least two-thirds of Warren's small donors came from out-of-state, a testament to her reach as a national figure. According to one recent poll that showed Warren in a near dead-heat with Brown, 37% of Massachusetts voters said they had never heard of her. Raising $3 mil a month is sure to change that, assuming Warren can sustain that pace.
The national attention that this race has garnered recently due to a spat-let over Brown's college modeling career could be a help. While the fallout cuts both ways, those supportive of Warren are more likely to be moved to write her a check than conservatives who view Brown as nothing more than a RINO (Republican In Name Only). Yes, a denunciation by NOW would ordinarily be a feather in the cap for a Republican, but Brown's penchant for being reasonable far outweighs that.
Warren's performance, coupled with Brown's uphill fight to retain a Republican seat in a liberal state, have Hot Air's Allahpundit wondering if this race is worth the trouble for the GOP:
Exit question: How heavily should the RNC and NRSC back Brown if, as expected, this becomes a high-profile, high-spending race? He doesn't have many fans left among the base and that money will be needed elsewhere.
If Warren continues this pace, and opens up a decent lead on Brown, the answer to that question could come sooner that he thinks.
Have a tip we should know? tips@mediaite.com