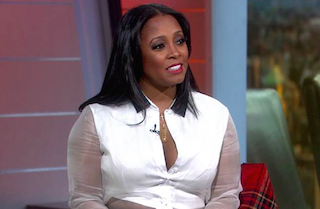 On last night's episode of The Celebrity Apprentice, Keisha Knight Pulliam, who played Rudy Huxtable on The Cosby Show, was "fired" by Donald Trump for not reaching out to Bill Cosby during the show's celebrity charity drive. And there she was on the Today Show Monday morning, explaining why she did not call her former TV father during the show's taping last March and addressing the controversy surrounding the comedian that has mounted since.
"I know The Cosby Show is in reruns, and everyone thinks that we're this family that has dinner every Friday night," Pulliam told Today's Savannah Guthrie, failing to mention that TV Land has actually pulled old episodes of the show as more rape allegations against Cosby emerged. "But the reality was I hadn't spoken to Mr. Cosby. I felt that it would be tactless, very rude to call someone and be like, 'Hey, so, let me have some money right now.'"
And as for those allegations against Cosby, the actress attempted to remain as neutral as possible, while giving her former co-star the benefit of the doubt.
"What I can say is this: I wasn't there. No one was there except for the two people who know exactly what happened," she said, presumably referring to Cosby and the other woman in each of more than a dozen alleged incidents. "All I can speak to is the man that I know and I love."
"Ultimately, they're just that, allegations," she continued. "You know, it's very much been played out in the court of public opinion. But we're still in America, where ultimately you're innocent until proven guilty. I wasn't there. That's just not the man I know. So I can't speak to it."
Despite the fact that Cosby played a central role in Pulliam's departure from The Celebrity Apprentice last night, Trump defended the show's decision to leave any mention of the accusations against the comedian out of the episode, saying on Twitter:
This show was taped just before the terrible Bill Cosby revelations came to light.She still should have asked him for money-goes to charity.

— Donald J. Trump (@realDonaldTrump) January 5, 2015
Watch video below, via NBC:
Visit NBCNews.com for breaking news, world news, and news about the economy
[Photo via screengrab]
— —
>> Follow Matt Wilstein (@TheMattWilstein) on Twitter
Have a tip we should know? tips@mediaite.com