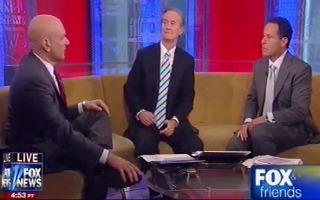 Fox News contributor and psychologist Dr. Keith Ablow appeared on Fox & Friends to weigh in on riots in North Africa which resulted in the deaths of three U.S. State Department personnel. Ablow said that the rioters, in this case, may be actually suffering from psychosis and are not subject to reason.

RELATED: Christiane Amanpour Implies 'Extremists In This Country' Inspired Murderous Riots In N. Africa
"To act in that fashion with murderous rage over a 17 minute film which is about free speech – something we value in this country and have stood for and have died for – isn't about practicing your religion, it's about not being well," said Ablow. "And if we have to define our enemies as not well, psychiatrically disordered, that confers a whole different level of risk in terms of what we are dealing with."
"They're not people, therefore, you can reason with because they are – by definition then – focused on a fixed and false belief system, when applied in this fashion, that people should die because they've been criticized," Ablow continued.
"If you're not in your right mind, you can't weigh risks and benefits," Ablow said.
"Real insanity deprives people of their empathy for others. If these people are insane, you can't count on them to not blow themselves up, to not blow up your buildings and to not do other disastrous acts meant to destabilize everything we consider sane and civilized," Ablow concluded. "They're not just really upset, they're really not well."
Watch the segment below via Fox News Channel:
> >Follow Noah Rothman (@Noah_C_Rothman) on Twitter
Have a tip we should know? tips@mediaite.com