Keith Ablow's Bullying Solution: Parents Should 'Go to These Schools, Lawyers in Tow'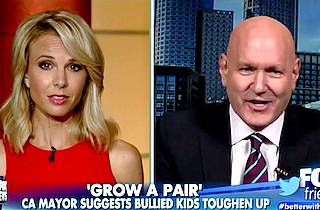 Fox News psychiatric contributor Keith Ablow told Fox & Friends host Elisabeth Hasselbeck Wednesday morning that the answer to bullying was not, as a California mayor recently suggested, telling kids to "grow a pair," but rather parents actively, even aggressively pushing schools to crack down on bullying — and using legal counsel to drive the point home, if needed.

"News flash for the mayor: bullies don't generally target people who can plaster them to the pavement," Ablow said. "Victims of bullying are often anxious kids, worried kids, and sensitive kids. So the idea like that they're going to somehow summon this karate-like spirit?…I've treated very confident people who definitely grown their pairs, CEOs, lawyers, et cetera, who in adulthood are still struggling with the scars of being bullied as kids. So no, it makes no sense what the mayor said."
RELATED: Fox's Keith Ablow: Sex Ed Leads to Children Discussing Threesomes, Naturally
Hasselbeck suggested that the mayor "seemed to indicate that he was just saying look, you've got to stick up for yourself," and wondered, "is this something that can be trained into someone?"
"I think that kids should be told, you should stand up for yourself," Ablow replied. "But that can be its own form of abuse. If a child simply doesn't have the wherewithal to confront somebody bigger and more aggressive, the people who should be standing up are the parents, going to these schools with lawyers in tow if needed, and saying, 'You will enforce a policy that protects my child or you and the district will pay.'"
"Interesting point there," an unimpressed Hasselbeck said.
Watch the clip below, via Fox News:
[Image via screengrab]
——
>> Follow Evan McMurry (@evanmcmurry) on Twitter
Have a tip we should know? [email protected]