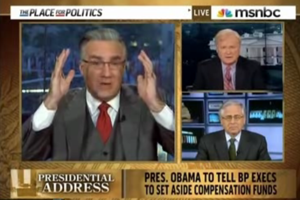 It's safe to say Chris Matthews has lost that tingly feeling down his thigh. It took only seconds after President Obama concluded his Oval Office address for Matthews and co-host Keith Olbermann to rip into the President for what they perceived as a lack of leadership and direction, and, especially in Matthews' case, and over-reliance on meritocracy.
Before President Barack Obama took to the airwaves to reassure Americans, most would have probably guessed that this kind of outrage was to be reserved for, well, the folks at Fox News. And, yes, Sarah Palin got to be the first to respond to his message over there. But her disagreement paled in comparison to the outrage over at MSNBC, where Matthews went issue by issue in the speech knocking the president's broad propositions down. First bashing him for failing to explain what his executive powers can do in this situation, he later attacked his renewed interest in a cap and trade bill (which Matthews claims could have been passed if Obama himself had not changed the subject to immigration) and renewable energy ("that's the hardest thing in the world to do!… that broke Jimmy Carter").
Olbermann, meanwhile, was not impressed by the rhetoric, and especially confused by the World War II reference. "It's nice," he commented, "but again, how? Where was the how in this speech when Americans are crying out for how?"
Matthews also turned his ire towards Energy Secretary Steven Chu and his Nobel Prize in Physics. "This meritocracy has gone too far," Matthews railed, angered that the President insisted on noting the Secretary's achievements so often. This point sort of taints the validity of the rest of his argument. It's unclear what, if not merit, Matthews would want to see used to assemble a team of scientists to put together a response to the biggest environmental disaster in American history, and it's unclear why the fact that Dr. Chu has a Nobel Prize gives him so much pause. The only thing "bad" about the prize was that he received it for his work in the field of physics, doing light experiments that help little with cleaning up an oil spill.
It was a fairly shocking display of disapproval from two of Obama's biggest supporters in the media in the past. If the speech had Chris Matthews enraged and demanding executive leadership, it's not hard to imagine what Michael Steele and company are drafting in response.
Video below:

Have a tip we should know? tips@mediaite.com