Olbermann Calls Out Glenn Beck Over GBTV's Subscribers…Which Exceeds Countdown Total Viewers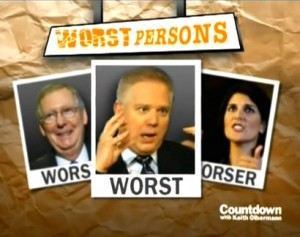 In his patented "Worst Persons" segment Monday night, Countdown's Keith Olbermann reserved the top spot for ex-Fox News superstar Glenn Beck, whose GBTV show debuted last night with 230,000 subscribers. Rather than jump on anything crazy that Beck said,though (there must have been something), Olbermann went after Beck over the size of his audience, which, on day one, far exceeds the audience that Olbermann has taken months to build at CurrentTV.

Olbermann cites a Wall St. Journal article that pegs the subscriber count at 230k, then does his own calculations of Beck's business prospects. "At five bucks a month, that's a total income of a little under $14 million a year. Beck is claiming income of $20 million."
He estimates production costs for Beck's show at an elastic $10-17 million.
He was able to identify a metric at which he was beating Beck. "Beck premiered today having lost 90% of the audience he had at Fox," Olbermann said, realizing, "Wait, so why am I angry at him?"
That's an excellent question.
It's true, Olbermann held onto significantly more than 10% of his MSNBC audience, which was less than half the size of Beck's Fox audience. But really, is it at all fair to compare a real live cable show to an internet subscription-only service, a notoriously tough sell? He's beating the pants off of Oprah's OWN service, for example.
Don't get me wrong, I love a good feud as much as the next guy, but when your own audience is around 200,000 total average viewers, this might not be the best ground on which to wage battle. The fact that Beck was able to exceed that on day one of his show, when he's not even on TV anymore, is damned impressive, and probably a sign of the apocalypse.
To Olbermann's credit, though, he absolutely nails the toss to commercial, as his production script hits the camera dead-on. It was a damn nice throw.
Here's the clip, from Current's Countdown:
Have a tip we should know? tips@mediaite.com