Keith Olbermann Donated To Three Democrats Last Week, Potentially Violating NBC Rules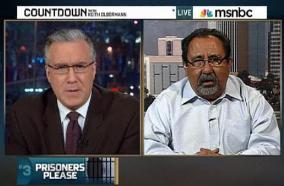 Remember all that back-and-forth between Fox News and MSNBC regarding possible on-air fundraising? Well an offshoot from that is actual donating – which Politico reports Keith Olbermann did last week, in the maximum amount, to three Democratic candidates.
This donation came to one candidate directly after his Countdown interview that night – and it may be in violation of NBC's rules.
Rep. Raul Grijalva was a guest on Olbermann's MSNBC show last Thursday (video below), lamenting the campaign waged against him because of immigration-related SB-1070. "It comes at the end of a campaign when many of us have been battered for six months because of our opposition to 10-70," he said on the show. It was the sixth time the congressman had appeared on the show in the last sixth months, according to Politico. In the end, Grijalva ended in a too-close-to-call race, eventually pulling out the victory on Thursday night.
But that night, Olbermann concluded his show, went over to Mailboxes Etc. around 30 Rock, and donated $2,400 to Grijalva, Rep. Gabrielle Giffords and Jack Conway (running against Rand Paul). "Giffords had appeared on Olbermann's program in May, as did Conway," reports Politico.
So what does this mean? NBC has rules regarding employees donating to political campaigns, discouraging it and impressing that it's a "a breach of journalistic independence to contribute to the candidates they cover." Here's a key part of that policy: "You should report any such potential conflicts in advance to, and obtain prior approval of, the President of NBC News or his designee."
Whether Olbermann told his bosses about the donation before it happened will be key, but regardless, this act should evaporate any final appearance of objectivity by the MSNBC host. Gabriel Sherman, who recently wrote a massive cable news profile, said this on Twitter: "Roger Ailes wouldn't tolerate Fox talent giving $$ to candidates like @KeithOlbermann. In April, Ailes puled Hannity from tea party event."
MSNBC declined to comment for Politico's article, so we don't know whether they knew about the donation. We've reached out to MSNBC as well. But here's what Olbermann told Politico:
One week ago, on the night of Thursday October 28 2010, after a discussion with a friend about the state of politics in Arizona, I donated $2,400 each to the re-election campaigns of Democratic Representatives Raul Grijalva and Gabrielle Giffords," Olbermann said. "I also donated the same amount to the campaign of Democratic Senatorial candidate Jack Conway in Kentucky."

I did not privately or publicly encourage anyone else to donate to these campaigns nor to any others in this election or any previous ones, nor have I previously donated to any political campaign at any level.
This will not be where the story ends. Also, as MSNBC Leans Forward into their new life with Comcast at the helm, they are in a very different place than they were last year. The success of Rachel Maddow (beating Olbermann in the demo last month), and Lawrence O'Donnell may mean the new bosses will be far less understanding of these types of issues that arise with Olbermann when, and if, he went rogue last week.
Here's Olbermann's interview with Grijalva from 10/28:


—–
» Follow Steve Krakauer on Twitter
Have a tip we should know? tips@mediaite.com