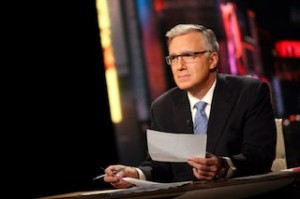 Keith Olbermann returns television with his new, eponymous, sports-centered show on ESPN2 tonight. And in a new interview with The New York Times, the former MSNBC anchor explains why his interest in politics has evaporated over the past few years. "I finally figured out I just didn't like the subject matter anymore," he told reporter James Andrew Miller.
Since the ESPN2 show was first announced, Olbermann has been denying that he has any desire to work politics jabs into his sports coverage. At first, it was reported that his new contract would bar him from discussing politics, but Olbermann later refuted that claim in multiple interviews. And now, he's clarified his position on the matter even further.
As he told Miller:
"No, I won't miss politics. My understanding of my own emotions relative to politics was really clarified in the past year. I was invited on 'This Week With George Stephanopoulos.' I did it twice, and they invited me on many more times. We talked about doing it on a regular basis, but I found myself coming up with really bad excuses to not do it, like my dog needs my attention. I finally figured out I just didn't like the subject matter anymore.

If you cover politics for eight years without interruption like I did, you need a change. After all, we retire our presidents after eight years. Why you should make anybody cover our political system beyond that is a mystery to me. It was pretty much burned out of me."
So, there you have it. For now, at least, politics has been "burned out of" Keith Olbermann. So, tune into his new show tonight if you want to hear his opinions about "The Worst Person in the Sports World," but don't expect him to say anything political.
[photo via The New York Times]
—
>> Follow Matt Wilstein (@TheMattWilstein) on Twitter
Have a tip we should know? tips@mediaite.com