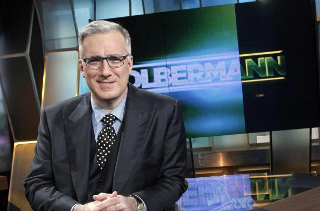 In an interview for GQ's November issue, ESPN2 host Keith Olbermann reflects upon his turbulent television career and tells the magazine that he'd prefer not to be known solely for his "contentious exits" from various networks.
"If there's anybody who bothers to write an obit for me, it will include something in the first paragraph about contentious exits," the veteran broadcaster confessed. "And I'd like to change that."

That reputation may be hard to overcome, however, given that the peak moments of his career have thus far been awash in turmoil. His 2011 departure from a lucrative MSNBC primetime gig led to all sorts of speculation about his treatment of staffers and network brass. Similar issues arose when he was let go by Al Gore's now-defunct network Current TV.
But despite all the previous "contentious exits," he recently returned to the ESPN family with Olbermann, a nightly sports talk show on ESPN2.
In the GQ interview, Olbermann laments the "mental illness" of many in the TV business: "Wanting to be on television is a mental illness," he said. "Wanting to be president of the United States, wanting to be an actor — these are degrees of the same mental illness."
"If you need to be approved of simultaneously by more people than are in this room now, there's a problem," he continued. "I don't know what would happen if television — or fame — stopped tomorrow for all the people who are pursuing it, what they would do. I suspect the idea of the zombie apocalypse is based on that."
He even expressed some remorse about his own past behavior in the TV business:
"You find yourself at various times in your life being fearful, because you don't know how to function in some environment in which you're not being applauded by a thousand people or more at once. So many times I've looked back with a kind of sympathetic disgust at my personal conduct till age 40."
Full interview here.
— —
>> Follow Andrew Kirell (@AndrewKirell) on Twitter
Have a tip we should know? tips@mediaite.com