Keith Olbermann Mines Ancient History to Name Bristol Palin 'Worst Person in the World'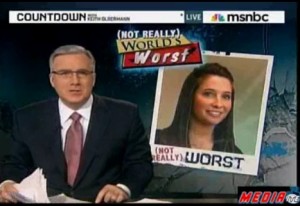 Two weeks ago called, Keith. They want their news back.
Viewers of Countdown might have thought they had tuned in to a rerun tonight, as host Keith Olbermann pegged his retrofitted "Worst Persons in the World (Not Really)" award to a two-week-old abstinence and safe sex PSA starring Bristol Palin and Jersey Shore's "The Situation."
Worse than that, though, Olbermann criticizes perhaps the only redeeming thing about the cringe-worthy spot, and makes a tone-deaf comparison to George W. Bush and 9/11.

Olbermann is seriously in need of some catchup. Not only is the PSA in question old-ish news, but after watching a clip from the spot, he exclaims "She's the Candies spokesperson for abstinence?"
Actually, she has been for a year-and-a-half, now. Also, we have a black President.
Here's the clip from tonight's Countdown, from MSNBC:
And here's the original PSA, in case you can't remember back that far:
Now, there's a lot wrong with this clip, from the awkward line readings to the cringe-inducing spectacle of "The Situation's" singsong display of his "Mag-nums!" (a surer sign of overcompensation than a Humvee with a mirrored ceiling and a pair of "Truck Nutz"), but if there's anything to applaud, it's Palin's embrace of safe sex alongside abstinence as a way to prevent unwanted pregnancy or disease. Amid all the natural revulsion at the two leads' sand-and-water chemistry, this is a message that deserves some credit, a break from stereotypical social conservative orthodoxy.
Perhaps it is Olbermann's intention to draw fire from Mama Grizzly Sarah Palin, and he probably will. Certainly, anti-Olbermann sites like Johnny Dollar are already working on their "Keith Olbermann Compares Bristol Palin's Child to Terrorist Attack" headlines, but even a fair-minded person would find his quip jarring. Not only is it bad form for such a vocal critic of Palin to go after her child (a context that just made the bit seem mean-spirited), but using 9/11 as a punchline is a tiny needle to thread, and this misses by a lot.
This is an opinion piece. The views expressed in this article are those of just the author.